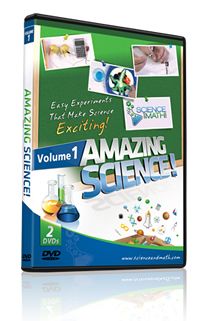 Amazing Science
from
Science and Math.com
is a 2-disk DVD set. It has 23 science experiments which can be done at home. Most are kitchen-friendly but a few require some less kitchen friendly materials. Each experiment is presented by Jason Gibson, a Rocket Scientist for NASA with degrees in physics and and engineering.
From the website:
Learn fundamental principles of science through Amazing Science Experiments! You'll learn about electricity, magnetism, heat, temperature, pressure, surface tension, buoyancy, and much more.
For every demonstration, a complete materials list is given, and each experiment features multiple camera views so you can see exactly what happens. Most importantly, every concept is explained in a step-by-step fashion. You'll not only be amazed - you'll understand the science behind every experiment!
Pluses:
All of my kids LOVED these videos and experiments.
The materials are generally easy to acquire and the experiments are easy to do.
After demonstrating each experiment, Jason explains why the experiment works and what scientific principles are at work.
Minuses:
The materials list is briefly given at the beginning of the segment on the video. I think it would be nice if there were a pdf download or pdf file on the disk with a materials list and directions printed out in addition to the video.
Overall we loved these videos. My children were inspired to try out many of the experiments. One day we had 2.5 minutes (literally) before we had to walk out the door. My kids had just finished a video segment that required 2 cups, a sink, a straw, and some water. They were dying to try their experiment before we left the house. Because the materials were so easy to find, I let them do it before we left. After they were done, they joyfully skipped out the door on time when they were done.
Here is one Tiger did after watching the video. Not only does he know how to do the experiment, but he knows and understands why it works:
The simple experiments with normal materials makes it well worth the $19.95 cost of the 2-DVD set. It is also possible to download the videos for $17.99. For more information please check out the sample
video
and the website at
Science And Math.com
We love Amazing Science here at the Lighthouse Academy and hope you do to!
Check out what other TOS Crew mates say about Amazing Science.

Disclaimer: As a member of the TOS Crew, I received this product, at no cost to me, in exchange for my honest review. All opinions are mine.