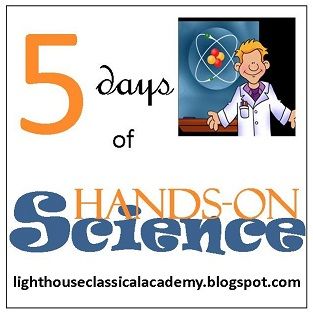 (To the tune of 12 Days of Christmas)
On the fifth day of Science my children came to me... with 5 science books.
For the fifth and final day of the Hands-on Science edition of the TOS blog hop, I have 5 books that have helped my family. I find that it becomes easier to create great hands-on science experiences. These are a few of my favorites on my shelf.
I love this one. Not only does it give many experiments across all fields of science, but it also gives suggestions for modifying the experiment to learn other things. The pages are colorful and experiments are shown with step by step instructions
Another great book of experiment suggestions. Some of them I have covered in earlier posts like
this
one.
I love this book. This is the older edition, but newer ones are available. The Internet link feature is great for finding more resources related to the topic that the section is covering. The children have spent hours reading this book. I think that the newest edition is available through an Usborne consultant or possibly from sellers on amazon or look for used ones among other homeschoolers.
Explore Rocks and Minerals! published by Nomad Press is full of fabulous experiments and resources to teach about rocks and minerals. What could be better than learning about the composition of the earth than making earth models with chocolate, coconut, peanut butter and some jam! (
There is a one activity that is evolutionist but other than that it is neither creationist nor evolutionist).
We are currently using this text to help us explore botany. I love the experiments and the nature journal. The children love the experiments and creating a notebook of their studies. One of Butterfly's favorite subjects is Botany and she will spend a lot of time writing in her notebook.
For more 5 days of... visit the TOS Crew page.