The Vocal Coach is a company created by Chris and Carole Beatty.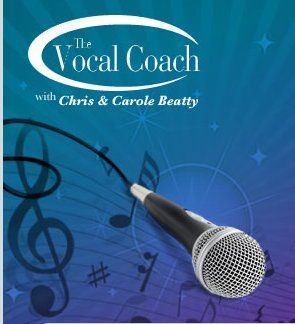 They have been teaching people, young and old to sing for over 40 years. Teaching Kids to Sing is just one of their many products designed to teach good singing mechanics.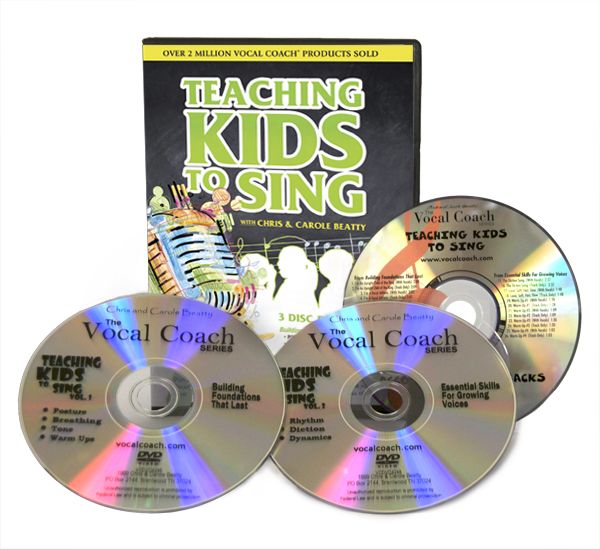 Teaching Kids to Sing is a Christian program designed for children ages 5-13. It is a 2DVD/1CD set and costs $44.99. The first DVD covers foundational singing skills like breathing, posture, and tone. The second DVD builds on the first and includes topics like rhythm, diction, vocal health, and dynamics. Each video features children as well as Chris and Carole Beatty. The CD includes demonstration and accompaniment only tracks to the various songs presented throughout the videos as well as warm up drills.
The method that Chris and Carole Beatty uses to present the information to children is geared to children. They use examples and hands on explanations to help children understand what is being taught. For example, when speaking of singing as something that requires certain techniques and practice, the children in the videos brought in many sports equipment items. They compared singing to soccer, dancing, tennis, etc. By doing this, my children were able to understand why such things as posture and breathing might be important.
My children love to sing. They often sing in the car and all around the house. Since I used to sing in choirs, I know about the foundations but was struggling to teach them to my children. I was excited to receive this set to review in order to share with them something I love- singing.
This was a very thorough overview of proper singing techniques. It contained a lot of scientific explanations which were easily understood by all of my children. I didn't learn most of the information presented until I was in high school! Technical doesn't mean it wasn't fun though. We had fun with this program and I think all of my children learned from it. Like many children, mine have learned to breath incorrectly and are still struggling to learn how to breath correctly. That will come in time, but for now, by reminding them about their posture, tone, breathing, etc. the sound quality has greatly improved and they can recognize it.
The one negative I found was that my children did not like the songs. They were written to help spur a remembrance of a technique or skill but usually backfired on my kids. They didn't appreciate the lyrics and spent more time creating spoofs on the songs than practicing them. For example one is about being an "Upright Child of a King" to help remember posture. Instead of standing tall, my children changed the lyrics and slouched. :( While some families want a strong Christian reminder in all subjects, we didn't feel this was entirely necessary as it didn't really add to the product.
Be sure to check out what other crew members thought about this product. The Crew also reviewed Vocal Coach Singer.

Disclaimer: I received a free copy of this product through the Schoolhouse Review Crew in exchange for my honest review. I was not required to write a positive review nor was I compensated in any other way. All opinions I have expressed are my own or those of my family. I am disclosing this in accordance with the FTC Regulations.