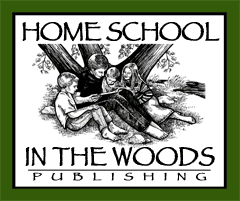 Over the years I have heard people talk about really neat Timeline Figures from Home School in the Woods. I was not aware that they had several other products available though. When the opportunity to review the Hands-On History Activity-Pak: Composers was given to me, I was really excited to try it. I am really good at teaching Math, History, Science, and selecting really good literature but when it comes to teaching the arts like music history or composers, I am a little weak. This was the spur to get me to take some time to teach my children about composers and music history and give them a taste of different periods of music in a fun way.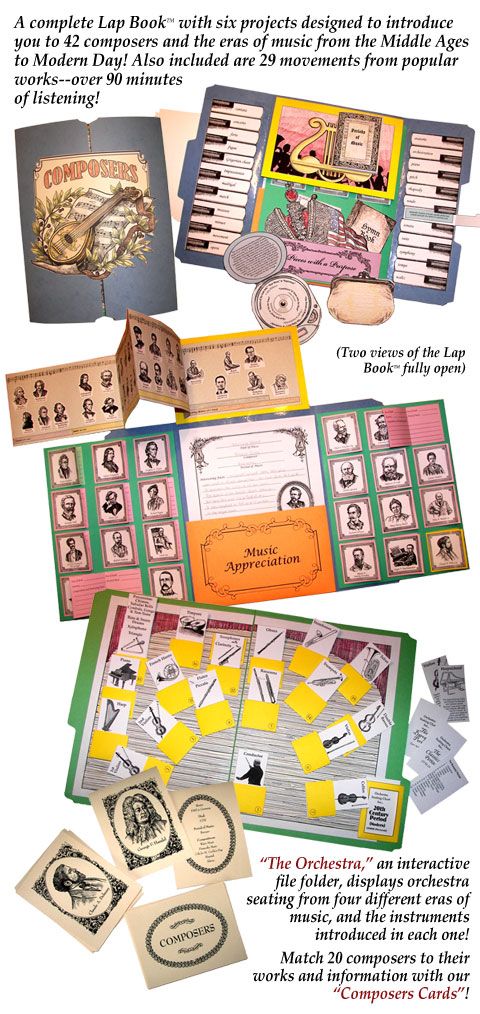 The Composer Activity Pak is a collection of Lap Book materials for 6 activities plus an orchestra file folder activity and composer cards. Also included are 29 selections of classical music to listen to. This product does not provide much for the teacher to teach with as it is more of a supplemental tool, although there are a few resources suggested in the pak. The Composer Activity Pak is all the lapbook materials that you might wish to have included in a study on composers through history organized into activities or themes. There is a chronology timeline with timeline figures of 42 composers through the ages, mini books for each of the composers, piano and music terminology, descriptions of the periods of music history, materials to discuss composing music for a purpose, and a music appreciation project. The Activity Pak comes with clear directions of how to assemble each activity, and how to assemble the entire Lap Book. Some of the activities take longer than others.
The Composer Activity Pak arrived as a download with all the files available locally arranged in file folders. There was also an icon to take me to an in-browser page with all the activities listed out with pictures of the activities and all the activities organized by activity.
I used the lapbook activities to guide me in what to cover next in our study of composers. I used the suggested resources list for some ideas but unfortunately was not able to find most of the suggested resources in my library system (we have a very extensive library system). The list did give me ideas on the types of books to look for though. We also used our composer study as an opportunity to use the internet for research and to discuss what makes a quality resource. When we were doing the activity on the different periods of music, I really wanted my children to hear the difference between the time periods and I found Sound Junction to illustrate and explore the differences between the various periods of music. Without the Composer Activity Pak to guide me, I would have never thought to compare and contrast pieces with my children or to create a timeline of composers. As we were working through the timeline and the periods, Tiger and Marin both had a few Ah hah! moments. I love those moments.
The Composer Activity Pak has a recommended age range of 3-8th grade. I used this with my children in 1-5/6 grade. I would have to agree on the age range. While my 1st grader was able to do some the activities, the level of writing on some was over her abilities. It was challenging but doable for my 3rd grader and my oldest breezed through it but still had to do some research on parts of the materials. He tends to work at a solid middle school level so I can see using this with a solid 8th grader if he was required to do some research on his own.
The illustrations in the Composer Activity Pak are beautiful. They are realistic and inviting. The lapbook pieces are well conceived and laid out. The directions are clear and concise. The only thing I don't like about this program is that each page is printed separately. This was frustrating to me to open 4-7 different files to print all the pieces. It also would have saved me some paper on occasion if all the pieces were in one document. The inconvenience of printing was a minor inconvenience though and I definitely recommend Home School in the Woods Composer Activity Pak as a supplement to enhance a study on composers. It is available for $18.95 as a download or $19.95 for the CD.
Be sure to check out the other reviews for the Composer Activity Pak as well as the 20th Century Lap-Pak and the Great Empires activity study.