I remember when I was a kid in school, we always loved videos. Maybe it was because we just didn't have to listen to the teacher, but I think we got something out of many of them too. Likewise, my children love to watch educational videos, especially those that tell how things are made or how things are made. When I was offered the chance to review two educational DVD sets from
Curiosity Quest
I was thrilled. I was sent both the
DVD Combo Pack – Produce
, which contains Mushrooms, Cranberries, Orange Packing as well as the
DVD Combo Pack - Swimmers of the Sea
, which covers Sea Turtle Rescue, Penguins, and Salmon. Each combo pack DVD costs $24.95 and while Curiosity Quests targets ages 7-14, I found that my 4.5 year old really enjoyed them too.
Curiosity Quest, hosted by Joel Greene airs on around 100 PBS stations in the US. Each episode features Joel Greene answering a question sent in by a viewer. The answer is presented with hands on information on location. So, for example, if the question involves how something is made, the film crew will go to the manufacturer and ask questions and experience making that item. Each Curiosity Quest episode has a runtime of about 30 minutes. During each episode, there are several interruptions to ask children and maybe an adult a question about the topic. These Q&A sessions are usually related to terminology and is followed by the correct answer given by the expert. Another insert piece is a "Fun Fact" where a child explains some slightly off-topic, interesting, or bizarre fact related to the quest. There are a couple of these inserted randomly throughout the episode.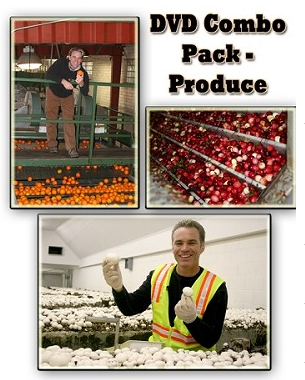 Mushrooms- We love mushrooms in our home. Well, most of us do. Even those who don't love mushrooms loved this video though. It was really neat to see how the mushrooms are grown and learn all about them. Some of the topics covered included the differences between white and Portobello mushrooms, how they are farmed, details about the scientific controls of humidity and temperature to facilitate commercial growth, what happens to imperfect mushrooms, how they are picked, and vocabulary related to mushrooms. After watching this video, my kids wanted to go make something with mushrooms to eat.
Cranberries- Fall isn't fall without cranberries! What a fun video to share during the fall harvest. This video was very interesting. For example, I never knew why cranberry bogs are full of water. Now I know (and it isn't why I thought!) This video also covered everything from the harvest to how the cranberries are sorted, where the less than perfect berries go, and how berry bushes grow. Watching this video made us wish we had some fresh cranberries to make some sauce or bread from.
Orange Packing- From harvesting to the truck, this video went into great detail about the care taken to insure that the fruit sent to the store doesn't decay as a result of the packing and handling process. It included details about how the pick, equipment they use, how they wash, treat, inspect, sort, and pack oranges for shipment.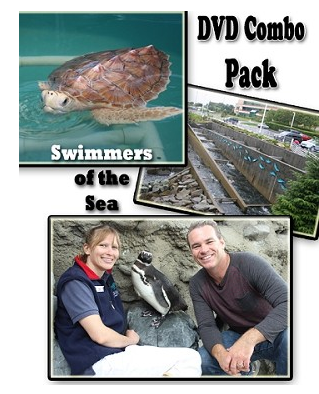 Sea Turtle Rescue- This was my least favorite video mostly because I wanted more in depth information on the rescue operation! This video seemed to skip around a lot and covered different types of turtles, diet, weight, why the turtles are being rehabilitated and how, types of fish hooks and injuries to turtles, anatomy, and how turtles hatch and the effects of light on baby turtles. It is really hard to cram so much in 30 minutes and this one left me wishing there was a full length feature on the turtle rescue facility. I guess some day we will just have to visit the facility on the other side of the US!
Penguins- This video was really cute. The Penguins video talked about the habitat, diet, history, behavior, anatomy and bone structure, and nesting of the Penguins. There were so many facts packed into a super short 30 minutes. After watching this video, we extended our penguin study by watching a longer documentary on penguins, reading books, and finally visiting the penguin exhibit at the zoo. There, the kids got to feed penguins. The whole time we stood in line, my children were reciting facts they had learned from the video to their friends.
Salmon- I love salmon- but only wild caught. This video included some great camera shots showing the natural and hatchery spawning grounds. There were many terms and details included about how salmon live, what they eat, where they migrate to, how they find their way back to their spawning ground, why hatcheries are built, and differences between different species of salmon. The salmon hatchery in my area is not open for public tour this time of year, but this video is perfect fodder for a unit study on salmon or other fish.
All of the Curiosity Quest videos were fun and engaging. The interruptions for Q&A with kids and adults were not my style, but they didn't prevent me from wanting to watch another episode. All of my children enjoyed them as well. I think the Curiosity Quest videos are a great resource for further exploration on a topic. They are designed to encourage questions and since they don't give all the details about a topic, they leave room for plenty of further study and exploration.