As a homeschooler I am asked many questions when people find out I homeschool. Typically the questions are things like, "What about socialization." Sometimes the question is, "How will you teach science?" We have a pretty science-rich home, but we were so blessed to be able to review a product which has made our home even more science-rich! E-Science from Supercharged Science is an amazing science program for all ages. For the purpose of this review, our family was given access to all levels of the e-Science program.

Supercharged Science e-Science is an online program which covers all areas of science from physics basics like gravity and friction to robotics and alternative energy and astrophysics. It was developed by Aurora Lipper. She is a rocket scientist and professor, and stay at home mom of 4. When she was a professor, she noticed a lack of enthusiasm for science. She set out to change that through teaching science to children.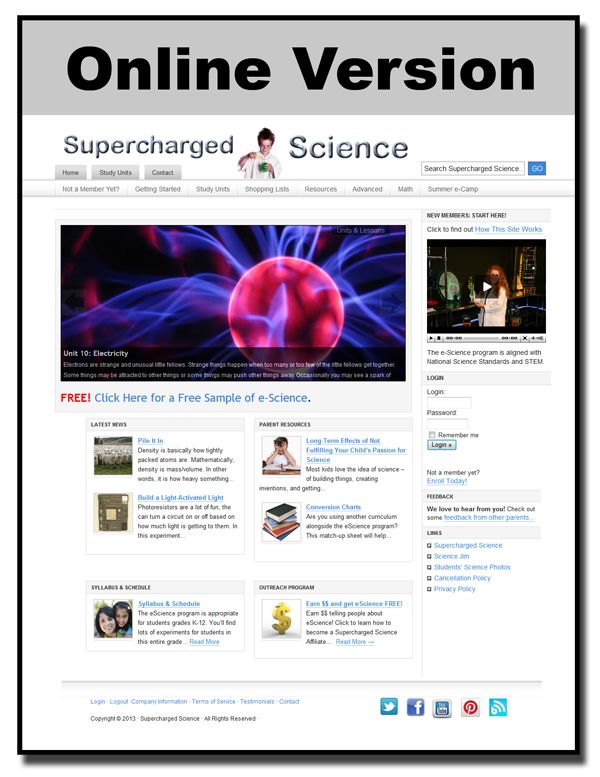 There are currently a total of 20 units with more being added soon. When someone first signs up for e-Science, they get access to units zero through 7, then each month they get 2 more units until they have access to all of them. Each unit includes a lesson plan with a materials list, reading for the parent to be prepared to answer questions, and some of the experiments to try. Some units take a week and others might take a month to complete. E-Science can be used as a stand-alone science curriculum or it can be used as a supplement to another science curriculum. Ms. Lipper has compiled a list of lessons/units which align with various curricula that you may already be using.
Unit 1 on Mechanics has three lessons: Force, Gravity, and Friction. Within each lesson there are videos and experiments geared for all grades. There are a total of 9 experiments for Force, 3 for Gravity, and 6 for Friction. It is not necessary to complete all experiments, but it can be fun to do them all. For each experiment there is a video where Ms. Lipper teaches about the experiment and how to set it up. In it, she weaves interesting information and explanations without telling the students too much about what they should see. She gives just enough information or demonstration for the students to understand the experiment, learn about what they are doing, why a scientist might experiment with this problem, or the history behind an experiment, and still leaves enough information out for the students to be interested and excited to discover on their own. Not only does Ms. Lipper inspire the students to experiment, but she does it using items that are truly everyday objects. To see a list of all materials used in all lessons, you can go to the Shopping List. Only a few experiments require more obscure items. Each lesson also has additional reading available as well as a page of exercise questions to answer after the experiments and reading are done. Ms. Lipper is a big believer in inspiring students to want to explore science and ask questions. She encourages parents not to start with the reading but to jump right in with the exploration and only if a child asks why to go and read about it in the additional reading.
Supercharged Science has excellent customer support. If you have a question on any experiment, you can comment on the experiment and will get a response, emails are also quickly answered, and there is even a weekly personal call-in opportunity where you can ask questions and have them answered one on one. Periodically E-Science sends out optional emails which are uplifting and encouraging to the teaching science journey. If there is a topic you wish to explore before your monthly subscription opens it up to you, you can email support and they will arrange for the unit to be open to you.
We chose to jump in with Unit 1 and work forward. We watched the videos and then did the experiments. My children didn't want to pick and choose experiments to do- they wanted to do them ALL! Their enthusiasm was contagious. Not only did they want to do them all, but they began to look around the house and concoct their own experiments. E-Science truly inspired them. After they did an experiment, they wrote about their observations. In the case of their own experiments, they wrote their thoughts as to what they thought might happen and then wrote their results. They really enjoyed adding to their notebooks. I enjoyed reading the comments under each experiment. They helped me to answer questions my children might ask. I didn't ask them to do any additional reading, although I think in more advanced topics, Tiger would probably have done more reading, but the information presented in the first few units are very familiar to him since he spends so much time reading science books.
I can't say enough good things about e-science. I love that all of my children can get truly involved in the experiments and exploration. They all learn at a different level, and their notebooks are also at their own levels, but the ability to combine all of them for a meaningful lesson is very important to me. Furthermore, I am amazed at the quality of the videos and experiments. This truly was a labor of love and dedication. Ms. Lipper has put together an amazing library for science. My kids come to learning time each day asking to do more science. Even if we don't do an experiment, they still learn from the videos.
I could overwhelm your computer with pictures of all the fun my kids have had, but here are just a few. This first set of pictures is from an experiment on force. Even Strawberry got in on the experiment and tried it. Butterfly was able to make quite a bit of static and make the ruler spin very fast.
We played with our magnetic cereal a little before we ate it during our force experiments:
The best part of e-Science was that I was taking care of a newborn for much of our review period. My husband was able to easily pick up and go with the children. Together, they learned about the strength of shapes and made a tunnel to support different objects. It is hard to believe that a piece of paper (not even an entire sheet of paper) held up several pencils, a pad of paper, and a stapler!
They also explored magnetic forces among other things.
Supercharged Science has offered a
free sample
to my readers. E-Science has two pricing options. K-8 materials for $37 per month and K-12 for $57 per month. The main difference is there are some experiments and units which are more advanced and suitable for older children. These units and experiments are not available with the K-8 subscription. All experiments and lessons are available with the K-12 subscription. The upper grade materials can be used with advanced 5-8 graders as well. E-Science also offers a 30 day money back guarantee.
Initially I had sticker shock when I looked at the cost of a monthly subscription. Then I saw the quality of the program. I realized that e-Science is not just a curriculum or resource. It truly is like hiring a science teacher to come into your home on a daily basis. What would that cost? When I put it in that perspective, science lessons for $37 or $57 a month for all of my children seems very inexpensive. I can't wait to explore more of the units with my children.