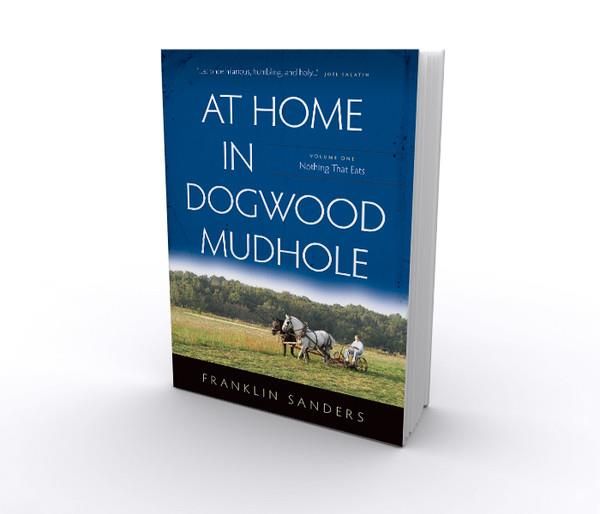 Franklin Sanders has written a collection of newsletters called The Moneychanger over seventeen years. Each month he writes a column detailing his attempt to live an authentic life including a move from suburban life to agrarian life and the relocation and aggregation of children, grandchildren, and many animals to his Tennessee farm.
At Home in Dogwood Mudhole
is the first book of three compiling those years of newsletters. This first volume is subtitled Nothing that Eats. A paperback version costs $22.95 and an ebook version costs $16.95. I received a paperback copy of At Home in Dogwood Mudhole for the purpose of this review.
Spanning the June 1995-September 2002, this 379 page book is a compilation of newsletters covering a wide variety of topics. There were some chapters that included fascinating historical information regarding the Confederate Army or various antebellum personalities and regional history. Other chapters included reviews of restaurants and other establishments that Sanders thought were exceptional. A few are ones I would like to add to my bucket list as a result of his reviews. Some were an interesting, albeit different, perspective on the Civil War, and some were interesting financial thoughts. Occasionally there would be a heartfelt testimony of the Savior or some Christian principle. Still others were on preparedness in getting ready for Y2K and many, even the majority, were about the various antics of the animals. Sanders has a real gift for writing in such a way that while I have not lived on a farm, I can picture what is happening. He also has a very good sense of humor and it comes through his writing. For example, how did two pigs go from being called Pork and Chop to Houdini and Princess!?
Since this is a compilation of newsletters, it is a bit disjointed. As a result, I found it hard to read through. There didn't seem to be much continuity, sometimes even within the same newsletter piece. For example, Sanders might be talking about how his daughter will be getting married in June and then all of a sudden he is talking about how his dog ate his chickens. The first half of the book was the most difficult for me to read though, because it included a lot of concern over Y2K (the original reason for the move to the agrarian lifestyle). Personally, I thought the fear of Y2K was overstated back in 1999 and I had a hard time relating to people who feared the end of the world was at hand back then. I guess my old bias crept in as I was reading through the first half. As a historical book, I think it is interesting to look back at the common concern of the population though. At Home in Dogwood Mudhole has a very authentic first-hand account of that portion of life.The second half of the book, the Sanders family finally made it to the country and his married children began returning to the farm. I love that aspect of Sander's story. I also found the second half much more enjoyable with all the detailed antics of the animals and his family.
While
At Home in Dogwood Mudhole
is intended for adults, I think children would enjoy some of the stories of the animals. This book would be appropriate for anyone who is interested in preparing, so long as they aren't extreme Yankees, since Sanders gets very vocal about his feelings about the Civil War (he calls it the War for Southern Independence) and the North vs. the South. It would also be appropriate for anyone thinking about leaving the city and trying their hand at farming.