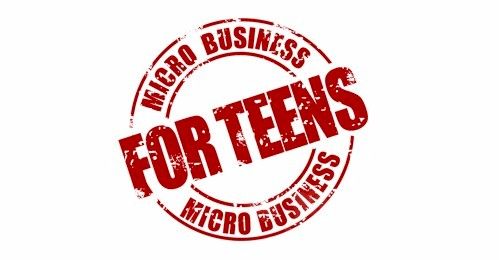 My children are always trying to come up with businesses to earn money with. I have pictures of them when they were very small waving signs at the end of our driveway hoping someone would drive through our cul-de-sac and buy their artwork. Over the years, many of their business ideas have not been very practical, but they tried them anyway. As they get older, they have more desire to learn about creating a business that will be practical. Recently, Tiger got to review two eBooks and a workbook from
Micro Business for Teens
to help him create a worthwhile micro business. He reviewed the
Starting a Micro Business
,
Running a Micro Business
, and
Micro Business for Teens Workbook
. All three products are geared towards youth 12-18, but I think a motivated 11 year old could really benefit from these books as well.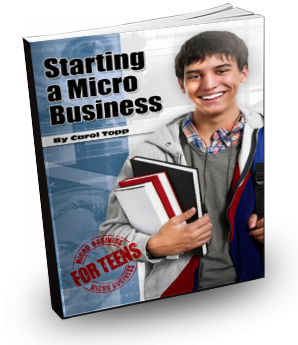 From brainstorming business ideas to writing a business plan to finance and motivational words, Starting a Micro Business book is designed to assist youth become successful micro business owners. It costs $4.95 for an eBook and is also available in paperback for $9.95. Starting a Micro Business was written because Carol Topp, a CPA and mom of two, found that so many entrepreneurial books do not meet the needs of teens. They are either not complex enough or they set unreasonable expectations and recommend unreasonable processes. Topp aims to teach about the various aspects of being a micro business owner while maintaining time for education and other responsibilities. It provides practical and relevant advise without dumbing down the information. Throughout the book many business ideas real teens have implemented as micro business owners are highlighted. Easy to read and understand, Starting a Micro Business uses plain language that leaves the reader understanding business terminology without being dry or overly technical. Each chapter ends with a bullet point list of "Important Points." I love that there is an entire section dedicated to warning about scams as well as a chapter on avoiding pitfalls, problems, and solutions to the problems. The chapter on business planning is very well laid out and would benefit any micro business owner. I wish Tiger had had this book a year ago when he started his micro business. I also really liked all the quotes from classics and people scattered throughout the book. For example, in the chapter on finance, there are quotes from the Bible, Hamlet, and Benjamin Franklin to name a few.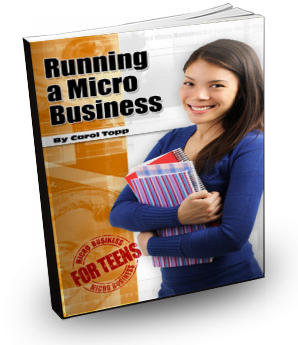 Running a Micro Business is written for the teen who has already figured out the business plan, financing, and is ready to go. It is the perfect follow up to Starting a Micro Business because it details sales, marketing, customer service, record keeping, bookkeeping, software, legal names and tax ID numbers, risks and solutions, and time management. Like the first book in the series, Running a Micro Business gives practical advise on how to run a business. It costs $4.95 for an eBook and is also available in paperback for $9.95. In the chapter on sales, it discusses how to get sales, how to get paid, and how to handle non-paying customers. It also addresses both in person and online sales. This book also includes quotes and important points. Throughout this book, various people are highlighted in side bubbles. This time, rather than highlighting business plans, these people are highlighted based on characteristics they possess which would be good for business. They are small stories of appropriate behavior as well as inappropriate behavior along with what went wrong.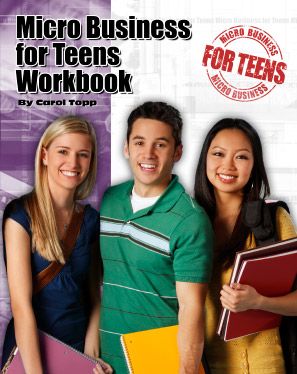 The Micro Business for Teens workbook is designed to be used by the teens. It is just under 100 pages and costs $9.95 for an eBook copy or $14.95 for a physical copy. It can be used both independently or as part of a class. If it is used as part of a class, it is recommended that it be used over 14 weeks along with the two texts. If it is used indecently at about a chapter a week it could be completed over about 3 months. The workbook is designed to help students better internalize the material in the texts. The first half of the workbook corresponds Starting a Micro Business and the second half corresponds to Running a Micro Business. It provides a place for the teens to brainstorm and wrestle with the ideas and information they learn in the texts. Some parts of the workbook seemed to be comprehension fill-in sheets and not really that useful, but most of the workbook was excellent. It takes a student through brainstorming, narrowing down choices, clarifying ideas, finding mentors, problem solving problems, writing a business plan, and getting started. If used, I think this workbook could really benefit a youth in his endeavors to create a profitable business venture.
Since this was used entirely by Tiger, and he has been running a micro business for the past year, I asked him to write a review. The following is his review:
I thought that the curriculum was overall beneficial and helpful to teenagers starting businesses. The author calls it a "Micro Business" and showed how it differentiated from other businesses. Here are some of the key points that a Micro Business has in the books: Simple and easy to start up; Only one worker, the owner; Low Risk; Learn while Earning.

I thought that these and a lot of the other traits listed in the book were very helpful and useful. There were motivating business stories in little sidelines of the page. Those were rather fun and motivating. The first book covers a lot of topics such as getting an idea for a business, problems and how to avoid scam and phishing, especially if your business is online, writing a business plan, and encouragement. The 2nd book covers things such as customer service, sales, marketing, and keeping records.

I thought that the books were very helpful in beginning and keeping a business going, how to expand later, keeping it under control, etc. I currently run a "Micro Business" and these books have helped me with ideas for another one, and have helped me to improve my current one. I briefly looked at the workbook and think that it is good for examining and writing a business plan and fine-tuning. The fill-in the blanks for reviewing the chapters didn't seem to help much. I thought that the business plan was very thorough and easy to change if needed. Overall I enjoyed this product; it covers everything from getting your micro business off the launch pad to fine-tuning your services and finances.
I have seen many entrepreneurial products on the market geared towards children and teens. I think and this one is not only excellent, but also well priced.