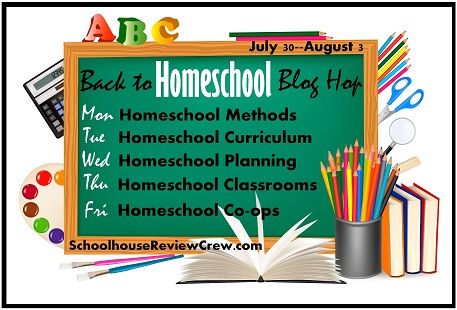 This week the Schoolhouse Review Crew is doing a Back to Homeschool Blog Hop. Come hop along with us as we talk about getting back to homeschool.
As I have mentioned before, I set out to be a classical homeschooler. Over time, my style has evolved. I have included unit studies, child-led studies, and exploration. I have used classes and parent-led groups as well. Over time, I became a more eclectic homeschooler than I originally thought I would be when I set out to homeschool my children.
I don't think it matters what method is used though. Every family will do what works for them. I think that what matters is the philosophy behind the education. This philosophy will shape the way whatever method chosen is used. While I may have evolved into an eclectic homeschooler, I have also evolved in my philosophy. Rather than a philosophy of teach the children all the things they need to get through each grade and compete with their peers, I focus on the grand picture. I have adopted a Leadership Education philosophy.
Leadership Education believes that all people on earth have a mission in life. It is our responsibility as parents to help our children prepare for and live the mission which God has placed them on this earth for. It is also our responsibility as a citizen of the world to live and prepare for our own missions, knowing that parenthood is our primary mission but God has other missions for us to do as well. In order to prepare, each person must acquire a great education. This education is achieved through hard work and dedication on the part of the student. Education is the responsibility of the student- teaching is the responsibility of the teacher/mentor/parent/etc.
How do I use this philosophy to influence my method?
School is no longer defined as a check list of subjects covered on a given day. School has evolved into a lifestyle. Someone asked my husband when Tiger did school. My husband answered he was always in school and never in school. Just today Pumpkin Pie asked me if we would ever have summer break like many other children. Once I explained why we didn't have Summer vacation, she was thrilled. Tiger lamented that he had a burning desire to spend more time learning and wanted to also take advantage of some of the time his public schooled friends were home and available to play. He recognizes now that learning time doesn't need to take a break for the calendar. He was not upset about spending time for learning. He was trying to figure out how to feel satisfied and fulfilled with his learning each day and balance some play time in too. Wow! What a grown up thing to be working on.
In the past, we have take summer breaks to some extent. This never sat entirely well with me, but now I understand why. We are not just teaching our children through a grade. We are teaching them to love learning and to learn something new each day. Even if our day is filled with a park day with our homeschooling friends there are lessons being learned. For example, last Friday at park day, the children observed and explored a large nest of caterpillars which had fallen from a tree. The week before it was snails which prompted a trip to the library for many books about snails.
So if I don't have a checklist, what do I do?
As I plan our days, I now look at how my end goals for my children will be accomplished. I no longer look at each grade level to determine curriculum choices. Instead, I discuss with my husband as well as Tiger and to a lesser extent my girls what topics need to be covered. I don't discuss with the girls as much because they are currently working on Core Phase and early Love of Learning phases while Tiger is slowly transitioning to Scholar. This means that the amount of input they have into their materials is proportional to their level of maturity. I present materials and topics which I know will be important for their futures. I spend time working with the girls on math, reading, spelling, handwriting, and reading lots and lots of classics. I provide Tiger with resources for math, computer programming, science, writing, and lots and lots of classics. I provide all the children with history and science as well as expose them to great art, music, etc. where possible. I also allow time for those things which they are passionate about. For example, Tiger is passionate about piano and science and math. He spends a lot of time on these areas of learning. He dreams of being an engineer and he finds peace and grounding in his piano playing. I have sought out a mentor for his piano to help him achieve his goals. Butterfly loves art. I am not able to mentor her in art (my idea of drawing a person is a stick man), so I have found a teacher who can mentor her and encourage her in her creativity.
I also teach my children to look towards their missions and to learn new things every day.
This year I will be focusing on teaching my children to plan their days and set goals. We have mentor meetings once a week to set goals for their education. A goal for Pumpkin Pie might be to read 10 Bob books this week. A goal that Tiger is currently working on is to read 15 books in the month of July in an effort to complete 100 books by the end of this year. These books are not simple picture books but classics, biographies, and non-fiction. I work with them to help them achieve their goals.
For more information on Leadership Education or Thomas Jefferson Education, I recommend http://www.tjed.org/about-tjed/ as well as looking through the blog on that website. To really understand the philosophy, I recommend reading
A Thomas Jefferson Education
,
A Thomas Jefferson Education Home Companion
, and
Leadership Education: The Phases of Learning
.