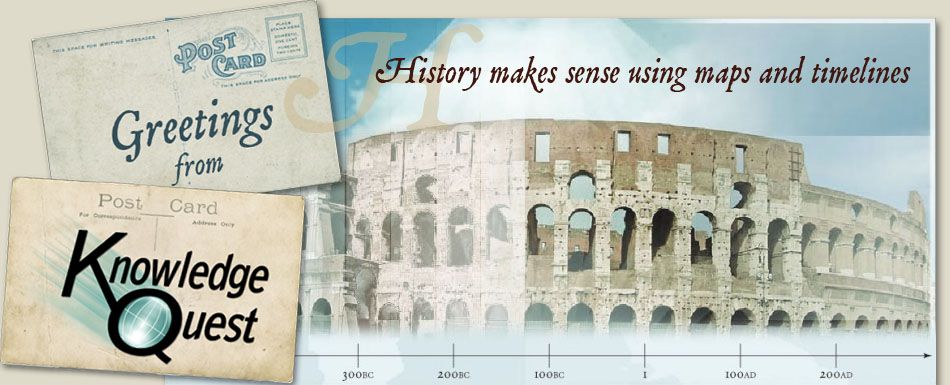 TimeMaps
by Knowledge Quest is an interactive historical map program. Knowledge Quest explains the purpose so much better than I can. From their
website
:
The goal of TimeMaps is to communicate history in a truly engaging way. To do this, we use a combination of timelines, historical maps and encyclopedic entries merged together to deliver authoritative content that can be digested in an enjoyable way. TimeMaps are computer software files that use Flash - a free program from Adobe. Maps are shown in chronological order at the click of a button and progress at your timing, showing how civilizations, countries and continents have changed over time. Quizzes and encyclopedic entries are included and can be turned on and off at your discretion. TimeMaps are a work in progress with many Ancient and Medieval civilizations having reached completion with more historical topics on the way.
There are seven total maps available at this time. They are: Ancient China, Rise of Rome, Fall of Rome, Rise of Islam, The Black Death, European Exploration, and The Atlantic Slave Trade. Each map program consists of a series of maps which add more details and information as time (shown in the right corner) goes by. The little i in the picture below indicates that more information is available for that area. The quizzes not only test the understanding of the material but also encourage critical thinking. Each map can be purchased individually for $9.95 or all together for $44.95 for the bundle (The CD is $5 more plus shipping).
TimeMaps is not a flashy interactive program but a series of interactive slides. It is full of information and gives a very clear picture of the movement of people and events that affected the various aspects of History. They require a fair amount of critical thinking in order to fully understand the information presented. I found it fascinating to see how the events played out over time using the maps. My younger children were not very interested, but Tiger also enjoyed them. I think these maps are a great resource to enhance studies for students who are 10+. We are currently studying the beginning of America so many of the maps didn't match with our studies at this time. As a result, they were interesting and engaging, but did not dovetail with our studies. I think that when we are back in the ancient and medieval times and I pull them up again they will be even more interesting and will help create some ah-ha moments.
Be sure to see what the other Crew Members thought about TimeMaps as well as MapTrek.

Disclaimer: As a member of the TOS Crew, I received this product, at no cost to me, in exchange for my honest review. All opinions are mine.