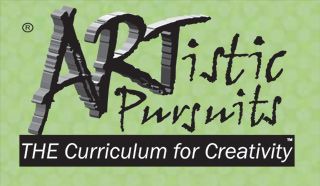 Among homeschoolers, ARTistic Pursuits tends to be a commonly named curriculum for art with good reason! In the past I had the opportunity to review ARTistic Pursuits for early elementary students so I was already aware of the high quality this curriculum offered. When the opportunity presented itself to review Elementary 4-5 Book One: The Elements of Art and Composition, I couldn't wait!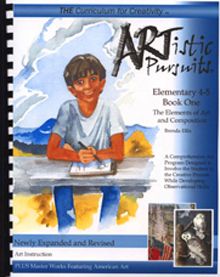 Just this year, ARTistic Pursuits updated, revised, and expanded their art books. The new edition has 16 units, each with 4 lessons. Each of the 4 lessons includes a lesson on observing the environment with respect to a specific art topic, a picture of a work of art from an American artist, making an original piece of art using a new technique or material, and then an application of the new techniques and topic for a final project. The Elementary 4-5 ARTistic Pursuits book is written to the student. There is a mix of pictures of techniques, master works, and each final project page includes an example of a student's art. For a full year's curriculum, it is suggested that art should be scheduled twice a week for at least an hour of class time. The materials list and table of contents for Elementary 4-5 Book 1 is fairly short and can be found here. As techniques are introduced, the book shows diagrams and examples of the techniques to help students understand what is being asked.
Butterfly was my primary tester. She had been taking art lessons for the past year and a half but unfortunately her teacher decided to retire from teaching so she could pursue her own art career. Given the choice, Butterfly would spend all her time doing art and never do anything else. She likes a lot of freedom to create but also likes to learn new techniques. I really hoped that ARTistic Pursuits could provide her with some of the instruction she craves but allow for plenty of free expression.
And the first lesson…
The first two units were a little tough for Butterfly. At first Butterfly didn't quite grasp what the lesson was teaching. I was not much help because I am not drawing artistic and didn't always understand what was being asked of the students. In these cases, she just did her best. I think the real issue was that they were teaching use of space and lines and shapes. I think the explanations and definitions could have been a little clearer in those lessons. She seems to instinctively see those things so to have a lesson focus on placing the object in the space appropriately was a bit odd to her. After the first two units, she began to explore details and texture and had more fun with her lessons. The lessons also seemed to be written more clearly.
I think another issue for Butterfly is she hasn't worked in strictly pencil much. Elementary 4-5 Book 1 focuses on various elements of art and the main media used are black and white- pencil, scratch paper, and white pencil on black paper, and ink. Butterfly loves color and fantasy so focusing on black and white definitely stretched her a bit. In fact, once she was done with the assignment from lesson 1 (shown above) she went back, drew in a window, wall, and tablecloth and colored the whole scene. Once she got going though, she began to enjoy herself more and more.
This was her lesson on texture.
Tiger tends not to be a huge art person, but occasionally likes to draw or create something. Tiger did some of the work as well when he wanted to. He really had fun drawing the detail scene from imagination.
I really like that ARTistic Pursuits assumes no knowledge before beginning. While this might frustrate a student who has had art before, I think it is valuable to those who don't typically do art. In the first lesson it says to just do your best, make mistakes, and eventually the student will notice success in his efforts. I also really like that students are asked to draw from observation, memory and imagination to develop multiple areas of their artistic abilities.
Elementary 4-5 Book One: The Elements of Art and Composition costs $47.95 for 1 year of quality art instruction. While the new edition and grade level brought some changes and adjustments, we continue to love the quality of ARTistic Pursuits in our home. Be sure to check out what other members of the Review Crew thought of the various levels and books available from ARTistic Pursuits- we reviewed them all!

Disclaimer: I received a free copy of this product through the Schoolhouse Review Crew in exchange for my honest review. I was not required to write a positive review nor was I compensated in any other way. All opinions I have expressed are my own or those of my family. I am disclosing this in accordance with the FTC Regulations. Prices are accurate at the time of the review.