I was recently offered the opportunity to review a book published by
Ed Douglas Publications
.
25 Truths
(Life Principles of the Happiest and Most Successful Among Us)
, by Ed Douglas, is a 150 page book containing the 25 truths he has learned and lived by throughout his life. Ed Douglas is a father of three, the author of a two books on financial planning, retired CEO of the Bancshares Bank, financial planner, and high school tennis coach. A paperback book is $12.50.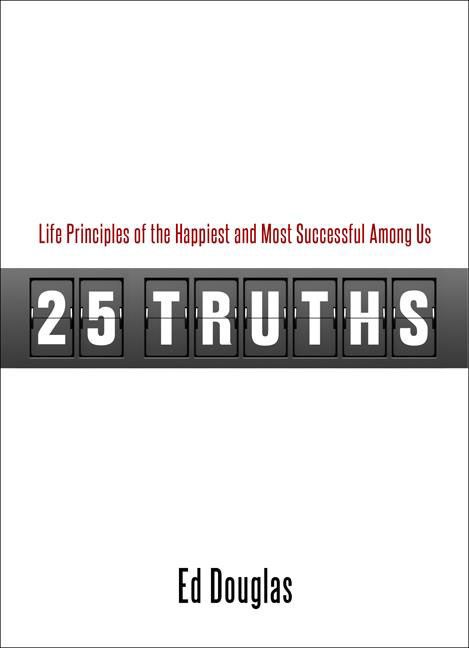 25 Truths is a Christian, inspirational book of character and values principles to live by. Mr. Douglas states that these principles are not meant as a "substitute for the great biblical wisdom of the Ten Commandments…" but the list of 25 tips "…will help you lead a fuller, better life." While not all these principles are expressly Christian, they do encompass Christian values and none are in opposition to scriptural teachings. Many are related to how to relate to others in a positive Christ-like way. They also deal with ways to obtain true happiness- through service and love. The way I see it, many take a commandment like love your neighbor and highlight essential ways to show that love such as forgiveness, avoiding speaking negatively, and apologizing quickly.
Each chapter in 25 Truths is comprises one truth. The chapter starts with a quote from the Bible, great literature, or a great person in history. Then after a 2-3 page explanation of the truth, including personal illustrations of how the truth worked in Mr. Douglas's life, there is a 1-2 sentence summary of the truth. Each chapter ends with several discussion questions like, "Do you agree or disagree? Why or why not? or Have you ever experienced this truth in your life? What happened? There are also questions like How can you apply this truth in your life? Each question is modified slightly to reflect the details of the chapters and facilitate more thoughtful discussions. The very last chapter is a bonus truth. This one summarizes all the others and was added in the republication of the book. This chapter does not contain the discussion questions like the others.
At first I intended to read each truth each night at dinner and discuss it. That didn't happen because of a business trip, vacation, evening commitments, and at the ages my children are, not all of them were age appropriate to read aloud. Truth #2 is one that deals with decency. Discussing decent speech is appropriate, but reading about indecency with my children at this time would not have been age-appropriate. Mr. Douglas does do a good job of writing about the topic without being graphic, but I still felt the chapter was a little too mature for some audiences. Even though we didn't read it at dinner and discuss, I still think it would make great dinner time conversation.
So what did I do? I read the book to myself and brought up topics and truths later. As I read, I would notice a truth I thought needed to be discussed by one or more of my family members. I would bring it up in the car, before bedtime prayers, or even at dinner. I read the chapter out loud if appropriate and we would discuss it. I did not use all the discussion questions, but I did use them as a guide to help me ask questions. For my family, some discussions were more conducive to more of the questions than others. While this book is intended for those in Grades 6+, I think many of the topics are valuable to discuss with all ages and found that our conversations were valuable even for my younger children.
I really enjoyed reading this book and discussing various truths with my family. I am very grateful to have received this book. The principles presented in this book are timeless and even if one is discussed today, it will still be worth discussing again at a future date. The children and discussion will both mature and evolve. This book would make a great conversation starter for dinnertime conversations or an addition to family devotionals. I do believe that these are "life principles of the happiest and most successful among us." I look forward to continuing to discuss applicable chapters as my children grow.